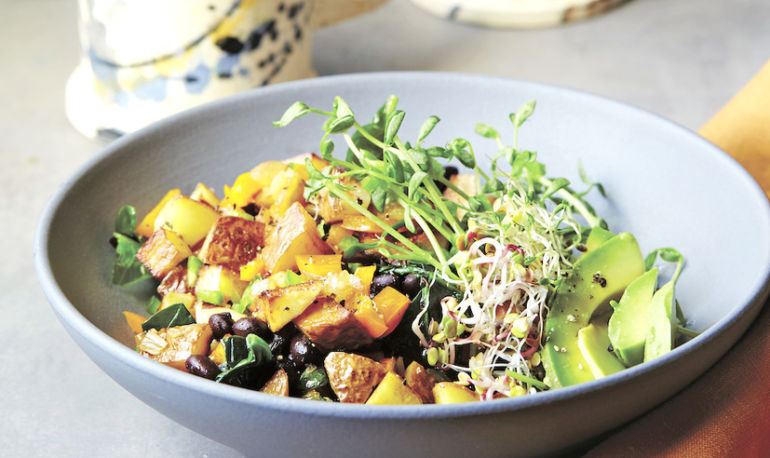 One Part Plant features colorful meals that are all at once straightforward, fun, and super tasty. Today, I am sharing for my vegetarian and vegan friends a plant based day that I will be having. I am so in love with plants!! I switched out white potatoes for sweet. Much better for my hormones! ~Tiffany♥
Breakfast Potato Bowl
Serves 2 to 4
Ingredients
Olive or grapeseed oil
2 medium-large potatoes, cut into 1-inch cubes (peeling is up to you)
1 orange or red bell pepper, seeded and diced
½ medium onion, diced
1 garlic clove, minced
Sea salt and pepper
Dash of paprika
1 cup cooked black beans, drained and rinsed, if canned
2 cups spinach, torn into small pieces
Toppings such as avocado, sprouts, hot sauce, salsa
Method
1. Heat a generous glug of oil over medium heat in a large pan or cast-iron skillet. When the pan is hot, add the potatoes and cover. Cook for 10 minutes, until the potatoes begin to soften. Stir them every few minutes to make sure they aren't burning.
2. Add the bell pepper, onion, garlic, salt, pepper, and paprika. Cook for another 10 to 15 minutes, until the onions and peppers are soft and the potatoes are cooked through.
3. Add the beans and spinach and cook for another few minutes, until the spinach begins to wilt and is nice and bright green. Serve the potatoes right away with avocado, sprouts, hot sauce, or your favorite toppings.
White Bean Buffalo Hummus
My favorite way to eat this hummus is to spread it on a charred tortilla and then load it up with veggies and herbs. Some people have a really difficult time digesting chickpeas. If you've ever noticed that you're super gassy after eating a tub of hummus, you might be one of them. Northern and cannellini beans make a great substitute. You can also take a digestive enzyme 20 minutes prior to eating any legume!
Serves 4 to 6
Ingredients
1 (15-ounce) can northern or cannellini beans, drained and rinsed, or 1¾ cups cooked beans
¼ cup tahini
2 to 3 tablespoons buffalo sauce (see Kitchen Notes)
½ teaspoon real maple syrup
2 to 3 tablespoons fresh lemon juice
Sea salt
Method
1. In a food processor with the S blade attached, pulse the beans, tahini, 2 tablespoons of buffalo sauce, maple syrup, 2 tablespoons of lemon juice, and a pinch of salt to a smooth paste.
2. Add more salt and lemon juice if needed and more buffalo sauce to get the spice level you love. Store the hummus covered in the fridge for up to a week.
Kitchen Notes: When shopping for buffalo sauce, make sure to read labels carefully. Look for brands that don't contain extra sugars or dairy products. Tessemae's is my favorite.
This milk is so easy to make and is delicious served hot or cold. Just add all the ingredients to a blender or food processor, and you're done. The peppermint and coconut cream are optional, but they do add a nice holiday vibe during the winter months. I used roasted cashews for this recipe because I think it tastes a little richer with them, but you can easily sub raw cashews if that's what you have on hand. I have also done this with raw almonds and it was really good too!
Chocolate Milk/Hot Chocolate
Serves 2 to 3
Ingredients
1 cup unsalted roasted cashews
2½ cups water
4 medjool dates, pitted and chopped
¼ cup cocoa powder
1 teaspoon peppermint extract (optional)
Coconut Cream (optional)
Method
1. In a food processor or high-speed blender, grind the cashews until they reach a fine powder. Depending on the speed of your blender or processor, this should take 3 to 5 minutes. Just make sure you stop before a nut butter starts to form.
2. Add the water, dates, and cocoa powder. If you are adding peppermint extract, do that now too.
3. You can drink this right away or warm it in a pot over low heat for hot chocolate. If warming, the milk might thicken a little, so add more water if needed. Pour it into glasses (for cold) or mugs (for hot) and top it with coconut cream if desired.