So I did some adaptations for your liking. I personally did a gluten free thin crust. But a sprouted would be even better. I love avocados. I love pizza. And pesto, yum! I hope you like this pizza recipe like I do! enjoy!
~Tiffany ♥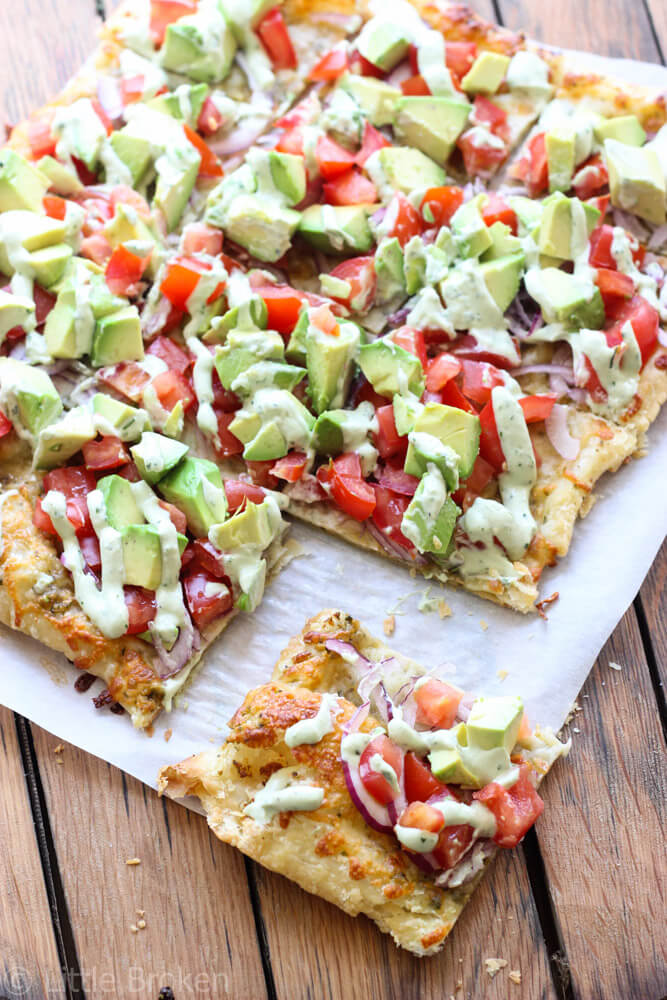 Pizza Toppings
1 sheet of puff pastry (I used Pepperidge Farm Puff Pastry Sheets from 17.3 oz/1.1 lbs. pkg. which has two sheets but I only used one), thawed out overnight in refrigerator or a sprouted tortilla or paleo tortilla or gluten free
1½ firm-ripe avocados, cubed ½ inch
2 med. tomatoes, seeded, cored and diced ½ inch
½ med. red onion, thinly sliced
1⅓ cups shredded Italian Five Cheese blend
Pizza Pesto
3 tsp. white vinegar
1 tsp. balsamic vinegar
½ tsp. lemon juice
½ tsp. honey
⅛ tsp. turmeric
¼ tsp paprika
½ cup chopped cashews
⅔ cup fresh cilantro, roughly chopped
2 garlic cloves
2 green onions, roughly chopped
½ Tbsp. coconut sugar or RAW sugar or Agave or Maple syrup
1 tsp. black pepper
1 tsp. ground cumin
¼ cup olive oil
Avocado Sauce
½ cup mayo( vegan or paleo)
½ cup sour cream (vegan or make your own)
2 Tbsp.  nut milk
1 green onion, roughly chopped
2 garlic cloves
½ cup cilantro, roughly chopped
1 avocado
squeeze of fresh lemon juice
salt and pepper
I also used a organic pesto sauce that was really good too!!
Instructions
Pizza Pesto
Combine all ingredients in a food processor until throughly mixed.
Avocado Sauce
Combine all ingredients in a food processor until throughly mixed. You may need to stop the food processor and scrape the sides to blend all ingredients well.
Assembling Pizza
Preheat the oven to 400F.
Roll out puff pastry on a floured surface ¼" thick (it does not have to be perfectly round). Pierce the puff pasty with a fork to prevent bubbling and transfer to a parchment lined baking sheet or pizza stone.
Spread the pizza pesto evenly over the puff pasty and sprinkle with cheese. Bake in the oven for 10 minutes or until golden crisp around the edges.
Remove the puff pasty from the oven and place the prepared tomatoes, red onions, and avocado on top.
Drizzle with Avocado Sauce as much or as little as you like and enjoy!